At Your Service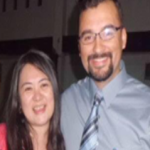 Senior Pastor – Pastor Cris Reyno
Music Director – Mieko Reyno
Pastor Cris and his wife Mieko are from the south, both were born in South America. Cris is from Uruguay and Mieko from Brazil. Pastor Cris met Mieko in Okinawa while on his overseas tour as a U.S. Marine. They have three beautiful daughters. They both attended college in Okinawa. Cris earned an Associate degree in Management and a double major with Bachelors degree in Management Studies and Psychology from the University of Maryland. Sister Mieko earned an Associate degree in English from Okinawa International University. The began attending the center in 2008 and in 2010 Cris served as the Spanish ministry leader. Sister Mieko served in the Praise and Worship team and later as the Music Director. In 2012 they served as church elders and later in 2013, they accepted the call to full time ministry as pastor. They completed their seminary study via the Ministerial Internship Program (MIP) and became credentialed minister through the Church of God, Cleveland, Tennessee.
Many o
pportunities to serve. Ask how you can be apart of this ministry.
Adult Sunday School – Linda Cobb
Men's Ministry – An opportunity to serve.
Usher – An opportunity to serve.
Not Pictured Youth Ministry Leader – Mayara Nishi
Japanese Home Ministry – Ryushin & Masami Nakamoto
Portuguese Home Ministry – Duda & Cintia Dos Santos
Elder – Jack Letscher
Elder/Treasurer – Larry Brantley