History of the Okinawa Church of God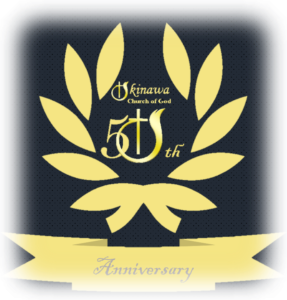 1970 – 2020
The concept of a Pentecostal Servicemen's Center began as a fellowship in the home of
Jack Landers in the early 1960s. Pentecostal fellowships gathered at various chapels
throughout the island's many military installations. As published in the "On Guard"
magazine the first services as a "servicemen's center" was in early 1969 with Aaron C. Reaves as the center's director.

In the following year the newly constructed center held its first service on February 15, 1970.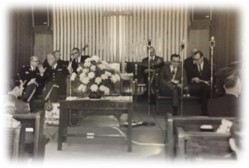 The official dedication took place the following month on March 15, 1970 and was attended by a delegation that included the Far East Representative James Garlen, Rev. D. A. Biggs, Rev. James Slay, Rev. Lewis Willis, Dr Charles Conn, and Ministry to the Military (MTTM) Executive Director C. Raymond Spain. Military command representatives included Colonel Carl Schofield and Lieutenant General James Lambert.
Since its conception, discipleship training remains a priority with a continuing focus on the "ministry to the military". However, changing demographics and diversity of the congregation over the last five decades necessitated a broader scope in the overarching ministry program. Today, the Pentecostal Servicemen's Center is known as the Okinawa Church of God and currently ministers to an international congregation in English, Portuguese, Spanish, as well as Japanese.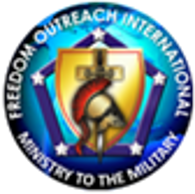 "Ministry to the Military"
Servicemen's Center Directors
Aaron C. Reaves; Feb 1969 – 1970
Charles and Pearl Wright; May 1972 – Jun 1976
Ronnie (Randy) Hatcher; Aug 1976 – Aug 1978
O. M. Shepard; Aug 1978 – Aug 1979
Carlton and Lettie Cannon; 1979 – 1982
Larry and Janie Lilly; 1982 – 1984
Jim and Cindy Bruce; Jan 1984 – May 1989
Carlton and Lettie Cannon; 1990 – Aug 1991
Dan and Linda Goodwin; Aug 1991 – 1995
Bruce and Ruth Kuhlman; 1995 – 1999
Brian and Cindy Loiselle; Apr 1999 – Jun 2004
Greg and Eiko Mitchell; Jun 2004 – Oct 2004
Greg and Jennifer Hall; Oct 2004 – Feb 2008
Greg and Eiko Mitchell; Feb 2008 – Apr 2009
Darrell and Shawn Eure; Apr 2009 – Feb 2010
Brian and Cindy Loiselle; Feb 2010 – Feb 2012
Elders: Mitch Culbertson, Bernie Jones, Cris Reyno, Joel Torres; Feb 2012-Apr 2013
Interim Lead Pastor (Via video) Bishop Robert Moore- Apr 2013-June 2013
Executive Pastor (under Dr. Moore) Cris & Mieko Reyno; June 2013- May 2015
Bishop Cris & Mieko Reyno; May 2015 – Present